BALLARAT'S OWN WINERY
Michael Unwin Wines has relocated to a much bigger premises in Windemere, Ballarat!
Visit our Cellar Door just off Remembrance Drive, 10 Powells Rd, Windermere, Ballarat – ten minutes west of Ballarat's iconic Arch of Victory.
The new premises allows us to continue our famous cellar door tastings of 16 (or more) different varieties, as well as grow our own grapes, barrel, bottle, warehouse and distribute all on the one site.
We look forward to seeing our regular customers and welcoming new customers. Visitors can enjoy tastings in the cellar door with our experienced staff or share a bottle of wine with friends whilst taking in the spectacular, panoramic views.
Bookings are not necessary but are preferred for larger groups.
Please call the cellar door on 03 5349 2021.
We are open 7 days a week.
---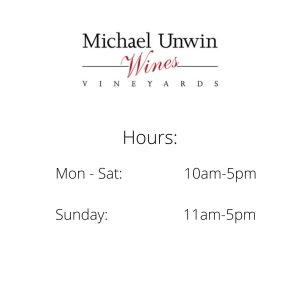 (03) 5349 2021
munwin@michaelunwinwines.com.au
---