Relocation to Windermere – Ballarat!

Michael Unwin Wines has relocated to our vineyards with our new address at:
10 Powells Rd Windermere – Ballarat, VIC 3352 (Off Remembrance Dr).
Come and see the new Cellar Door, open for free tastings 7 days!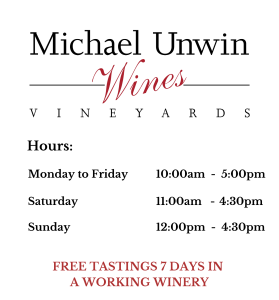 (03) 5349 2021
munwin@michaelunwinwines.com.au
facebook.com/MichaelUnwinWines
---
Welcome to our cellar door!
Michael Unwin Wines is a small family owned winery run by Michael and his wife Catherine located in Western Victoria.  Employing a small local staff, the wines are processed and bottled on site from locally grown grapes sourced from our vineyards.
Visitors are welcomed into our friendly cellar door, featuring towering racks of wine barrels and the aroma of maturing wines. Our tastings are held around standing wine barrels and we have a variety of wines on offer.
Our friendly knowledgeable staff will guide you through our extensive range of our single vineyard One Goat, Umbrella Man and Tattooed Lady varieties, as well as our extensive archive selection. You can also view any activities that may be happening in the winery at the time including vintage, barrel topping, bottling, labelling etc.
We also feature a 'fill your own' cellar door only range, where you can bring along and fill your own bottle!
One Goat – of the One Goat label fame, will personally greet you as you come through our front gate.